Report on the 2007 Clan Coleman Reunion in Sydney
Where do I start? What a fortnight! No description of mine could possibly indicate the true picture or significance of what took place. Think of all the superlatives imaginable and they couldn't do it justice! When I sent the invitation out nearly twelve months ago, I promised to make your stay in Sydney the best ever. Now I can report that it exceeded even my expectations. From the start, the weather, the venues, the events, the people, the partying, the energy, the quality, the atmosphere, the involvement, the intertainment, the fun and goodwill were second to none. If you know of a clan member who was present, talk to him or her about that fortnight in Sydney.
It is 10am on 19 December 2007 and the Colemans from Cordroon and Westport in Co Mayo arrive in Sydney looking refreshed and ready to commence a fortnight of celebrations. Hayley who has been in Sydney for a few weeks excitedly welcomes her family.
| | |
| --- | --- |
| Mick greets John Joe, Bridie, and Martin | Kirsty, Dylan & David |
| | |
Carrie, Martin, Hayley & Kate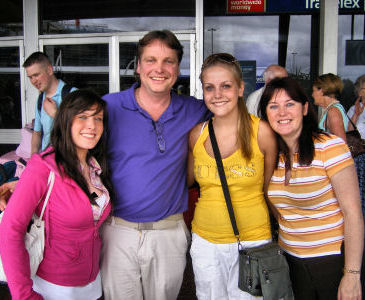 A great fortnight of celebrations began in style at the James Squire Brewhouse at the King Street Warf in Darling Harbour on Friday 21 Dec. but not before Ken & Mary Meehan from Montreal had successfully climbed the Sydney Harbour Bridge earlier in the day. There were tens of thousands of people all along Darling Harbour out enjoying the beginning of the summer vacation period. At the James Squire Brewhouse alone there were over six hundred revellers many of whom were Irish here to sample the warm Australian Christmas..
Friday 21 December 2007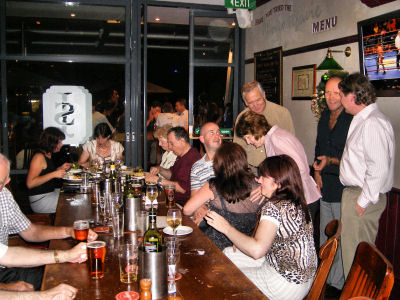 | | | |
| --- | --- | --- |
| With the two Martin Colemans on the left and right, Patricia poses for this photo with Michael Coleman and George Linnen from Scotland. | | All our visitors swung into action from the start getting into the spirit of all planned celebrations that were part of their visit to Sydney. |
Christmas Eve at Martin & Patricia's

Martin, Kate, Martin & David
| | |
| --- | --- |
| Fergus, Ken & Pat | |
| | |
| Martin & David | Martin & Ed with the Westport Colemans |
| | |
| Ken, Pat & Bridie | |
| | |
| --- | --- |
| Adrian, Tyron & Raelee Halpenny & Luke | Colum & Ed |
| | |
| | Bridie, Michael, Alyson & John Joe |
Christmas Day at Mick & Mary's
| | | |
| --- | --- | --- |
| | This was a day made to order. We were all delighted not to have been revisited by the soaring temperatures of the last couple of years. On such a pleasant day, Mick and Mary and their family excelled themselves in providing such a lovely Christmas Day and Dinner for all clan members in ideal surroundings. | |
| | |
| --- | --- |
| | |
| | |
| | |
| --- | --- |
| Michael, Noreen, Kate, Martin & Carrie | Monique(Standing), Bernadette, Janine, Bernadette & Siobhan |
| | |
| Kieran, Martin & Patricia | Conor, Luke, Kieran, Martin, Mary & Dylan |
| | |
| --- | --- |
| John Joe & Martin | Twins Michael & Jessica, Siobhan & Luke |
| | |
Reunion Dinner at the St George Motor Boat Club on 27 December 2007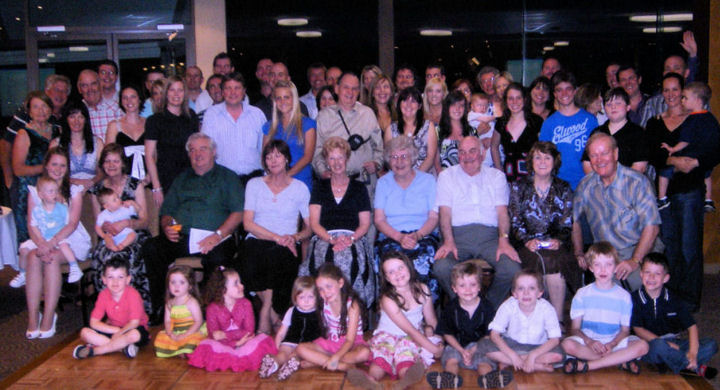 The Clan Coleman Reunion, held here in Sydney on 27 December 2007, was a resounding success. The function began at 4pm in order to allow for the number of children attending and to take full advantage of being on the water at the St. George Motor Boat Club in ideal weather.
Colum, Khim, Ed,
Amanda & David
Jack, Bernadette, Pat,
Margaret, Luke & Siobhan
As the first Clan Reunion to be held in Australia, it was indeed an historical event. It was also historical for another reason as being the first time that all Australian Clan Members were together under the same roof in celebration of their ancestry. We were delighted and very honoured to have Clan Members who travelled long distances from both Ireland and Canada to celebrate the occasion with us.
Matthew, Ciara, Conor,
Patricia & Martin
Mary, Mick, John
Alanah and Janine
| | |
| --- | --- |
| | |
From Ireland & Canada
Bridie & John Joe,
Mary & Ken
Martin & Patricia with the
Coleman Family from Westport:
Martin, Kate, Hayley & Carrie,
Kirsty, David & Dylan

Apart from the outings to different parts of Sydney, our visitors from Ireland and Canada attended nine organised events during their fortnight in Sydney: James Squire Brewhouse, Christmas Eve, Christmas Day, Racing at Randwick, the Clan Reunion, the Pre-Wedding Party at the Jamberoo Hotel, the Wedding, New year's Eve fireworks Display and the Farewell Bash at Darling Harbour. All events proved a roaring success. In this page, there are some photos of most gatherings. Unfortunately, Ididn't have my camera and video for the New Year's Eve get-together. I got both ready to take with me but left the bag sitting in the driveway as I drove off to attend the party. Fortunately, the bag was still there when we returned home.





Marta, Laurence,
Katya, Delia & Oshea
| | |
| --- | --- |
| | |
| At the bar | Liam,Michael, Aiden, Alanah, Jessica, Luke, Siobhan, Ciara, Conor & Matthew |
| | |
| --- | --- |
| Ciara, Alanah, Jessica & Bernadette | Martin & Michael |
| | |
All the children had a wonderful time and really enjoyed themselves. As the photos show, they were very interested in everything.

FORWARD to 2009 Montreal Canada